certemojis

Browser security indicators (typically padlock icons and green/red text in the address bar) are fun. They tend to indicate transport security, identity verification, or some measure of trustworthiness, depending on who you ask.
There are three classes of TLS certificates: Domain validation (DV), Organisation validation (OV), and Extended validation (EV). OV and EV certificates both contain the verified owner's country and organisation name. For example, the OV amazon.co.uk certificate above has the certificate subject:
Subject: C=US, ST=Washington, L=Seattle, O=Amazon.com, Inc., CN=www.amazon.co.uk
Browsers typically display an EV certificate's country/organisation in green text, this is the main selling point of EV certificates. OV certificates contain similar information, but it never gets displayed anywhere. I wanted to see OV organisation names, so I hacked chromium to indicate OV certificates in blue:

This probably horrifies the researchers who designed the default scheme, but hey, if I can understand C++ templates, I can probably understand this too.
Incidentally, ever tried using Chrome in Windows using a high-contrast theme? The default colour palette is ignored, and instead you can get a green (or other colour) "not secure" indicator:

Having blue security indicators was fun, so I made the security indicator text and text colours all configurable: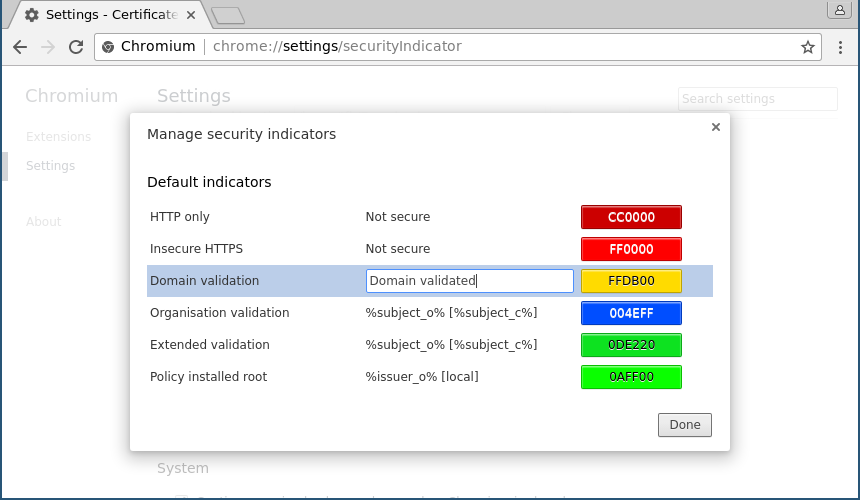 Then I thought, everyone loves emojis, and everyone loves SSL, so why not combine the two? Now my browser looks like this:
Trouble indicator:
:

Extended validation certificate:



(yes, that's a money bag emoji)
I didn't get to switching the font in the settings dialog to one with colour emojis, so they're black and white while you configure them. This paragraph is mostly here to distract you however: I can't think of a good lead-in to say the jscolor colour picker component is neat

: